Monoblock bridge saw
MBS TS CNC bridge saw for interpolated angle cutting in all directions
MBS TS is our best-selling bridge saw; the perfect combination of simplicity, flexibility and durability. The installation is easy and does not require a foundation. The machine is equipped with a compressed, rectified and chromed "active beam" for the utmost accuracy. The rotation of the head allows you to perform interpolated angle cutting in all directions.
MBS TS is our historical monoblock bridge saw with CNC axis control unit for cut programming:
Fully customizable according to customer requirements;
Monoblock structure for easy installation;
The perfect cutting precision is guaranteed by the special design of the beam;
Manual or automatic head rotation to perform interpolated angle cutting in all directions.
| 1 | 2 |
| --- | --- |
| X axis travel | 3500 mm (11'5") |
| Y axis travel | 2250 mm (7'4") |
| Z axis travel | 350mm (13'8") |
| Worktable dimensions | 4600x2200 mm |
| Max. diamond blade diameter | 400 mm (16") |
| Blade bore size | 50 mm |
| Manual head tilt | 90° - 45° |
| Head rotation | 0°- 360° |
| Main motor power | 15kW = 20HP |
| Main motor rotation speed | 1400 rpm 50Hz – 1700 rpm 60Hz |
| Main motor variable speed (optional) | 800 - 3000 rpm |
| Standard voltage/frequency | 400V-50/60Hz / 230V-60Hz 3ph. |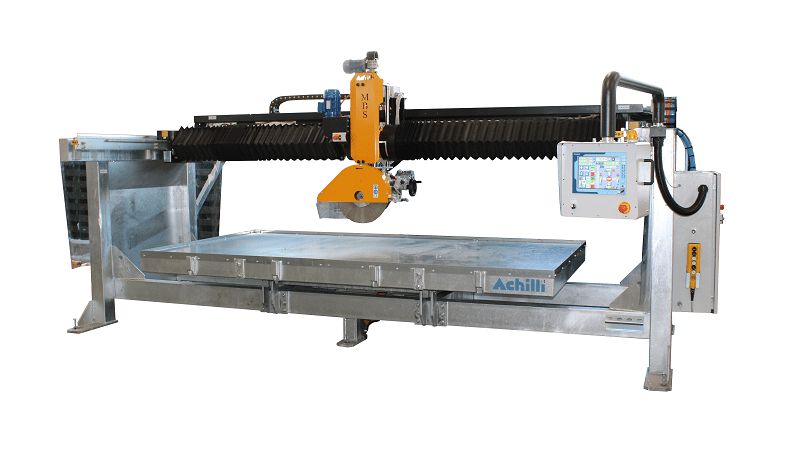 STRUCTURE
Steel frame hot-dip galvanized.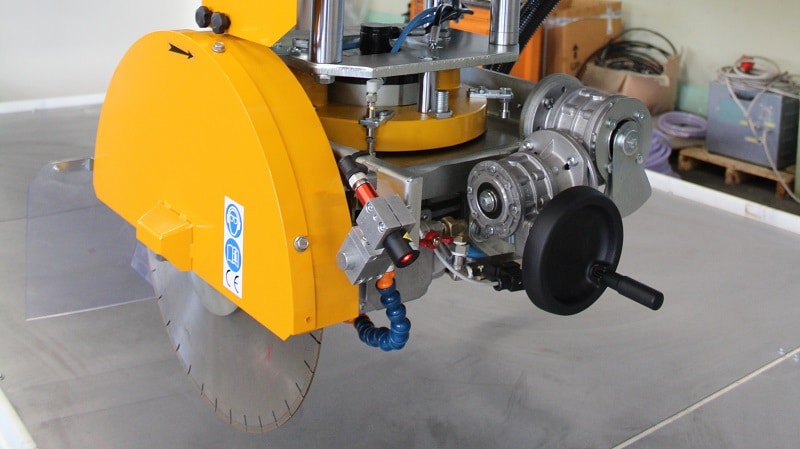 HEAD ROTATION
Automatic rotation of the head to perform interpolated angle cutting and diagonal cuts in all directions.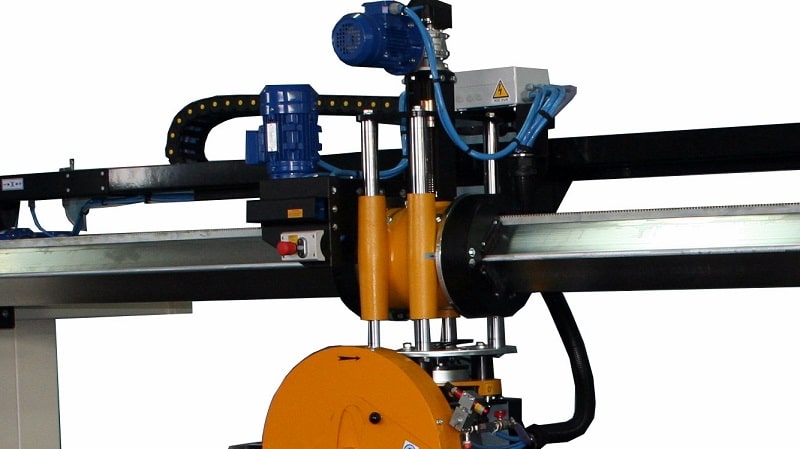 HEAD MOTION
Motorized head travel with variable speed on three axes (X-Y-Z) with protection bellows on X axis. Head travel on steel guides with angled rack and pinion to ensure maximum precision. Head raises and lowers on chromed steel columns and threaded rod.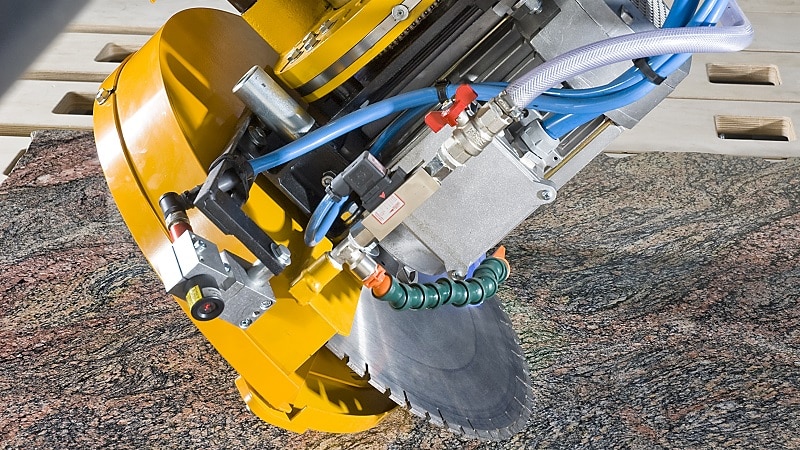 HEAD TILT
Manual head tilt from 90° to 45° by handwheel, for inclined cuts.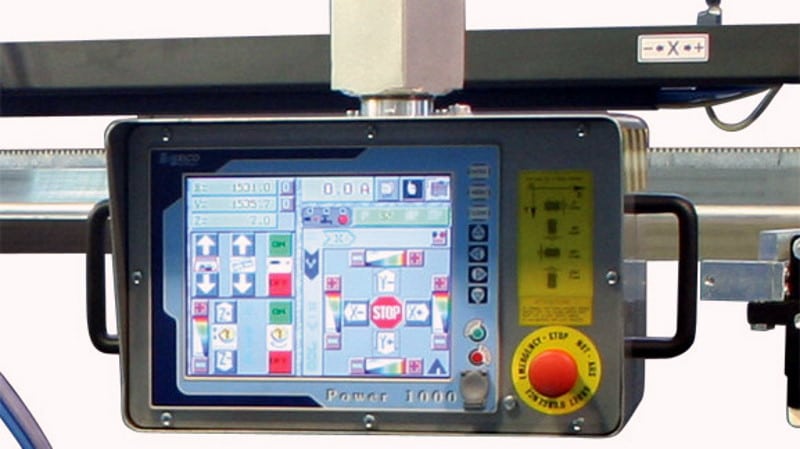 CNC CONTROL
CNC axis control unit with touch-screen color display with cutting profile programming. It allows automatic execution of cutting programs without manual intervention. Software license to convert 2D DXF CAD files.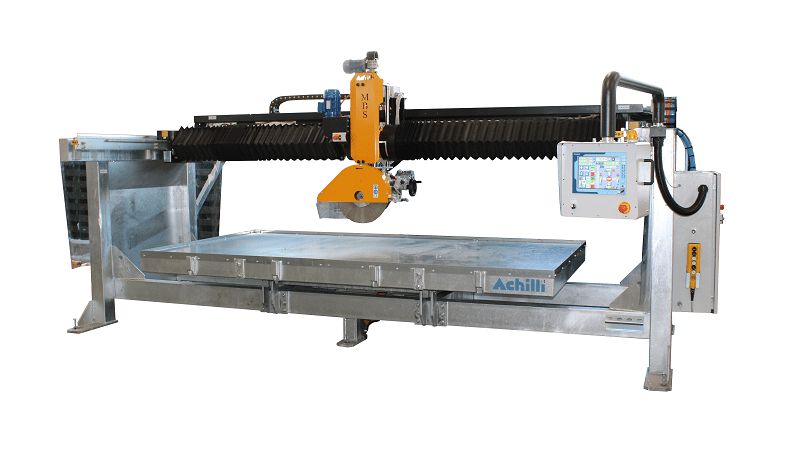 WORKTABLE
Hydraulic tilting table, designed to pour concrete.
LASER
Laser alignment device mounted on the head shows the blade's cutting line.
GALVANIZED FRAME
Hot-dip galvanized frame for lasting machine durability.
PENDANT CONTROL
Corded pendant control enabling quick head movement when the operator is working far from the control position.
TILTING WORK TABLE
Hydraulic work table tilt for easy slab loading. Work Table dimensions 11' 5.8"x6' 2.8 (3500x1900mm)
PROTECTION BELLOWS
Protection bellows on X axis.