AUTOMATIC BENCH SAW TFR A
MOTORIZED STONE SAW FOR LARGE SLABS
TFR-A is born from the specific need of having the best of both worlds between the AFR and the TFM. This motorized bridge saw combines the essentials of a basic saw with the sturdiness of a large frame allowing pop-up rollers on the worktable for easy slab positioning.
TFR-A is a sturdy and bridge saw ideal for cutting large stone slabs:
Customizable according to customer requirements
Excellent cutting precision made possible by a proprietary beam design;
Suitable for ceramic and sintered material slabs;
Large frame for processing large stone slabs;
Motorized head feed with variable speed in both directions;
Also available with manual head feed (TFR-C).
| 1 | TFR-A | TFR-A HT |
| --- | --- | --- |
| | TFR-A | TFR-A HT |
| Useful cut | 3300 mm (10'10") | 3300 mm (10'10") |
| Diamond blade diameter | 250-300-350 mm (10"–12"–14") | 400-450-500 mm (16"–18"–20") |
| Blade bore size | 25.4 mm (1") | 25.4 mm (1") |
| Motor power | 5kW = 7HP (3ph.) | 4kW = 5.5HP (3ph.) |
| Main motor rotation speed | 2800 rpm a 50Hz – 3400 rpm a 60Hz | 1400 rpm a 50Hz – 1700 rpm a 60Hz |
| Standard voltage/ frequency | 400V-50/60Hz /230V-60Hz 3ph. | 400V-50/60Hz /230V-60Hz 3ph. |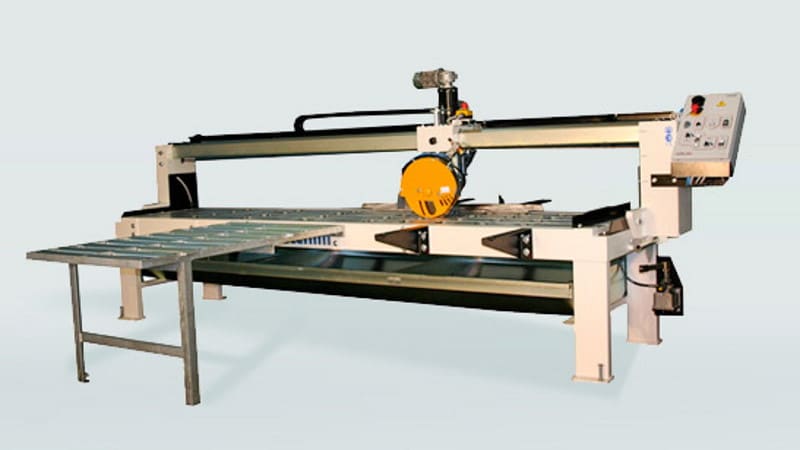 STRUCTURE
Steel frame, sandblasted and painted with epoxy-powder finish (hot-dip galvanized upon request).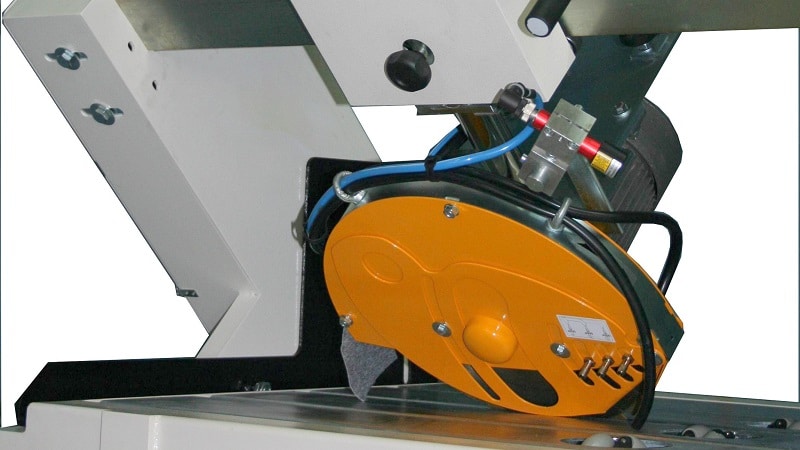 BRIDGE TILT
Manual bridge tilt for cutting from 90 to 45 degrees.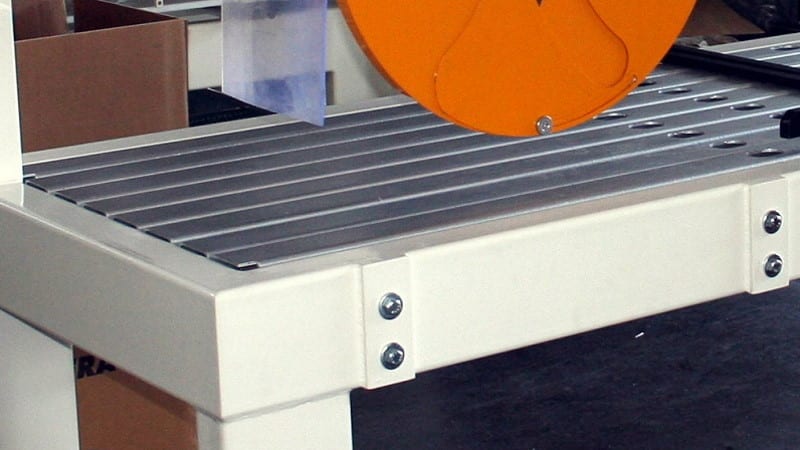 WORKTABLE
Worktable made of galvanized steel rails.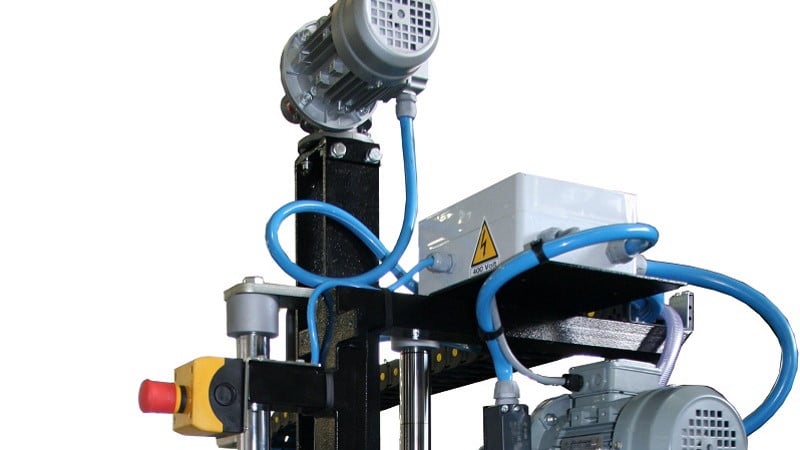 CUTTING DEPTH ADJUSTMENT
Motorized working depth adjustment along the Z-axis by geared motor.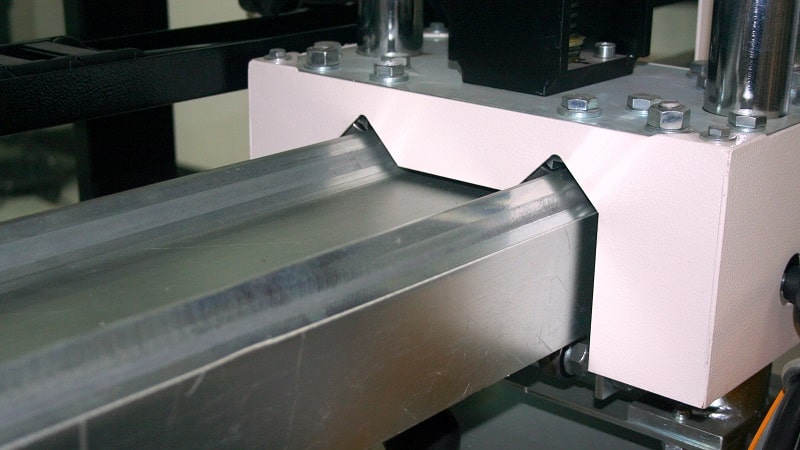 HEAD MOTION
Motorized head feed with variable speed in both directions.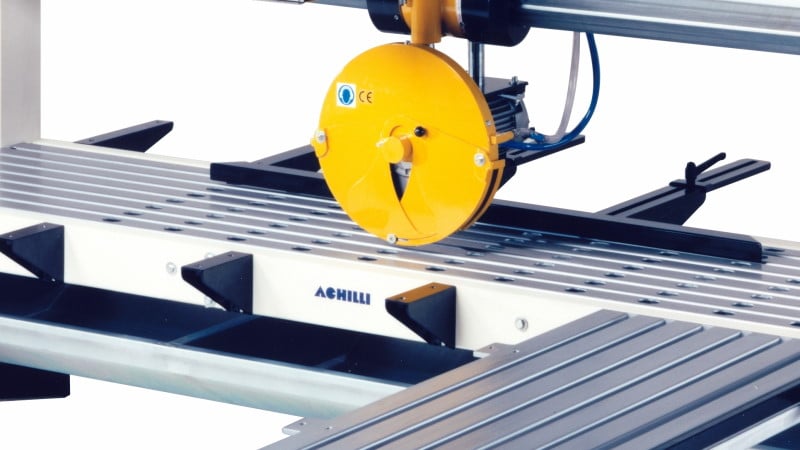 EXTENSIONS AND SIDE STOP INCLUDED
The saw comes with a single extension table and side stop for easy repeat cuts on a large slab.
RUBBER COVERING ON THE WORKTOP
Non-slip rubber covering for the worktable surface, ideal for ceramic slabs.
PNEUMATIC MATERIAL HOLDER
The device is composed of 6 pneumatic pistons, connected to the compressed air. Length: 99in. (2500mm) min. width 2.75in. (7cm) - piston travel 6in. (15mm) It can be fixed on the standard side stop of the machine or on the device for parallel cuts
DEVICE FOR PARALLEL CUTS
Machine can be equipped with a special device that controls the movement of the side stop, allowing easy parallel cuts. The side stop runs parallel to the cutting line by a special hand wheel.
VARIABLE SPEED
Adjustable blade speed to cut a multitude of materials.
DIGITAL DEVICE FOR PARALLEL CUTS
The machine can be supplied with a sidestop mechanism that allows the execution of parallel cuts. By means of a handwheel, the side stop is made to slide parallel to the cutting line, so as to avoid repeated attempts of manual re-measurement. The measurement is displayed by means of a digital position indicator equipped with an LCD display, which reads the position by means of a head magnetic strip. The position indicator can be zeroed out at any point and is possible to program it to keep in memory the thickness of 3 different blades. If properly selected the thicknesses will be automatically added to the measurement to be made.
CONTROL PLC
PLC control unit for step-cut programming.
WORK TABLE WITH POP-UP ROLLERS
Pop-up rollers manual or motorized for effortless slab loading and positioning: roller table with omni-directional rollers.
Side extension tables with rollers
Side extension tables equipped with rollers to facilitate slab movement. Dimensions: 1510x865 mm
Laser
Laser alignment device mounted on the head shows the blade's cutting line.
Water tank
Water tank with built in recycling pump for disc cooling during processing.