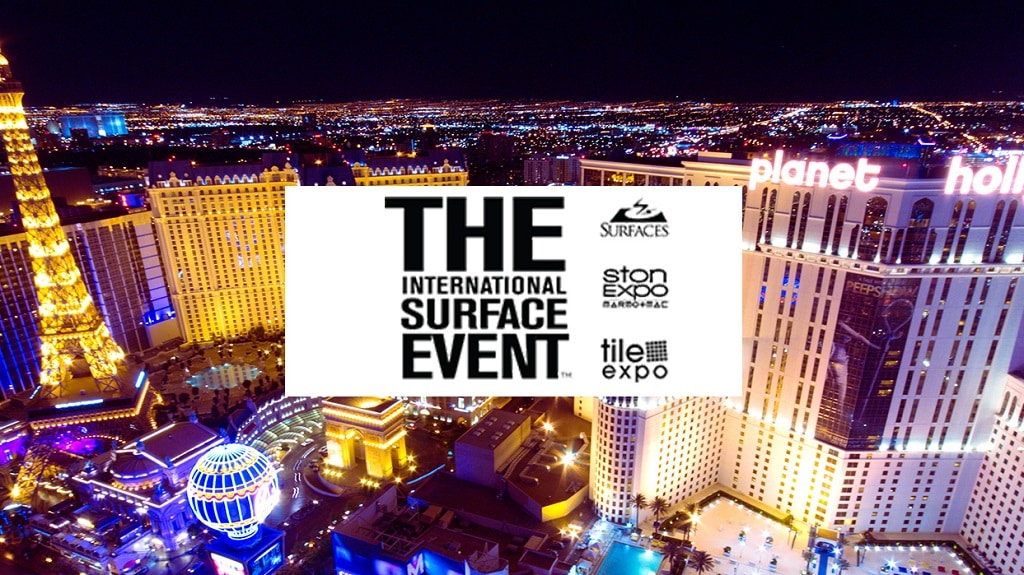 January 31 thru February 2, 2023 we will be at The International Surface Event (TISE 2023) held in the Mandalay Bay Convention Center – Las Vegas, NV (USA), 9am to 4pm (2pm on Thursday, the last day).
Visit our booth #3429 and find out our latest best-selling stone fabrication equipment and machinery, completely designed and made in Italy and distributed in the USA through our operation branch in Charlotte NC.
In our booth you will find:
GOLD:  CNC bridge saw for stone and ceramic slabs. The main features of this model are the extremely accurate and consistent stone sawing, as well as the ease of use for many years of reliable performance. -> Watch the video
MSA: professional miter saw to perform perfect 45 degree cutting even on uncalibrated slabs. No limitation in width and thickness of the slab to process, even the narrowest strips can be machined thanks to the special pneumatic pistons securing the stone in place. The maximum cutting accuracy is guaranteed by the head traveling on linear guides fitted with recirculating ball slides. -> Watch the video
TFR-A: saw with motorized head feed to combine the essentiality of a basic saw with the sturdiness of a massive frame featuring pop-up rollers on the worktable for easy slab positioning. -> Watch the video
SC500: hydraulic slab cart with levers or pendant control for easy slab lifting and positioning onto the worktable of your machines. A battery recharging unit is also provided.
SINK – sturdy and simple fab station to perform sink cut-outs on countertops. Use of shaped wheels will also permit inner edge shaping and recess drain processing.
LM30-VE: universal floor grinder working with Cassani or Frankfurt plates, a planetary head and a single-head driving plate, allowing to grind and polish all kind of stone floors.
At our exclusive dealer Gran Quartz (booths #3630 and #3727) you will also find our smaller portable saws for job site applications.
 We will be very happy to welcome you and let you experience the high standard of our products.
 See you in Las Vegas!
Contact us for more information and details!